Flexible Change Responses That Wins
How to work with you to engage your natural motivations, believes and conditioning system to activate deep potentials awareness for rapid success driven action in market journey.
it's observed that traditional business model feelings, thoughts and believes have continued to dominate our business practices. In the face of remarkable change in the world's cultural, social, economic, technological, political, demographics and more and as a result, I reasoned that since all human development in various aspect of life is meant to serve and leverage people's joy, happiness, excitement and satisfaction while supporting progress in different perspectives of business journey, a change of business model is the way to result revolution we all desire today. This is where flexible change comes in with opportunities for business coaching, training, consulting to help clients, customers, CEOs and others to understand the benefit of easily modified responses to altered circumstances in business journeys. Small businesses in particular who are dependent on flexible working hours are able to change so as to adapt to different circumstances.
My name is SYLVESTER EYO, a business coach consultant with years of cooperate marketing experience and private consulting over the years. I have struggled at various stages of business experiences to have clarity and certainty about business commitments in the face of change in market space. During information era, much contribution has been made to clarify functional processes of business, goal settings and strategies. Experience era of business coaching and consulting emphasizes on content building, engagement, enrollment and conversion which contributed much thanks. Today, transformational approach to business space has opened the flood gates of result revolution which is an opportunity for your business to grow and flourish. Myself, having been trapped at various messy middle, I struggled and had to go through the processes of flexible change by receiving motivations, perception, learning, beliefs and conditioning processes from expert coaches, consultants and course writers.
It's important to emphasize that flexible change in business does not start and end in the physical and strategic skills processes like the traditional perspectives with rigid attitude. Rather, it focuses on mindset motivations, Perception, learning, beliefs and conditioning which is designed to leverage entrepreneurs, performers and processor's business potentials to take action that yields results revolution.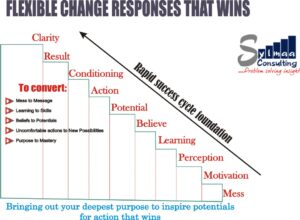 Flexible change business models provide mental clarity to your business projects from inception to connect the end to the beginning and uphold practical attention to cross the finish line towards mission accomplishment. It acknowledges business gap structure as the reason why you are in the industry and niche market of your choice. In addition, the market change influence which will prepare you to understand and navigate micro commitment shift, in order to achieve the outcome you desire. In all, it prioritizes mindset flexible change responses for purpose driven missions and future self visions to achieve sustainable growth journey.
The question is WHY NOW? yes! It is obvious that the global space is widely opened in the internet today with billions of people finding what fits them or resonate with their desire in different perspectives of human need. As a result, success in your business today goes beyond selection of industry and niche market to enter. You have to identify your ideal customers by processes of personalization, customization, monetization, meaningful messaging and engagement to drive your business to irresistible offer, this is because your ideal customers are online waiting for you to reach out to them, this is the reason why we want to help you connect your mission from the starting point of your business to the end to appreciate the existing gap as the reason for being in business, more importantly, to apply mindset evaluation first, to establish clarity and certainty of your business blueprints in market space. It also provides flexible change responses in respect of SMART goals setting, intellectual curiosity, innovation to achieve irresistible offer with capacity for massive action necessary to cross the finish line and reach mission accomplished schedule.
I'm so excited to meet you to initiate value creation exchange relationship discussion, intended to guide clarity, certainty and commitment pathways to result revolution achievement in change motivated market space. In this business journey, discussion on purpose driven value creation processes would emphasize on flexible change model, intended to deliver people's joy, excitement, satisfaction while progressing in various fields of endeavors. Your comments, questions and more will be appreciated. Thank you for your time.
Related articles